This dish turned out pretty well, although it seemed to be lacking some flavor.  I think perhaps the sauce could have benefited from something like Cajun spices and/or more cheese (like Parmesan), but I'll have to test that on my next go-around (assuming there is a next go-around!).
[INGREDIENTS]
8 slices reduced-sodium bacon, cut into 1-inch pieces
2 onions, cut lengthwise in half, then sliced crosswise
1 clove garlic, minced
1/3 cup flour
1/2 tsp. pepper
1-1/2 cups chicken broth, divided into 1-1/4 cups and 1/4 cup
4 boneless skinless chicken breasts
1 bag (12 ounce) of dumpling noodles
1 (8 ounce) package cream cheese, softened
2 tbsp. chopped fresh parsley
[DIRECTIONS]
(1) Cook and stir bacon in large skillet on medium heat until crisp. Remove from skillet and drain on paper towels.
(2) Add onions to bacon drippings in skillet; cook 15 to 18 min. or until golden brown, stirring frequently.
(3) Add garlic, flour, pepper and half the bacon for the last minute. Whisk in 1-1/4 cups broth.
(4) Add chicken to slow cooker; cover with onion mixture. Cook on LOW 4 to 5 hours.
(5) (Optional) With about an hour left, try repeatedly stabbing the chicken with a skewer to allow some of the onion mixture to seep down into the chicken.
(6) About 15 min. before ready to serve, cook noodles as directed on package.
(7) Drain noodles; place in a mixing bowl.
(8) Remove chicken from onion mixture and put on a plate to the side, reserving onion mixture in the slow cooker.
(9) Mix cream cheese, parsley, remaining bacon, and remaining broth into the onion mixture until completely blended into a sauce.
(10) Pour the sauce into the mixing bowl with the noodles and mix together.
(11) Empty the mixing bowl containing the noodles and sauce into a dish for serving.  Put the chicken on top of the pasta.
[RESULT]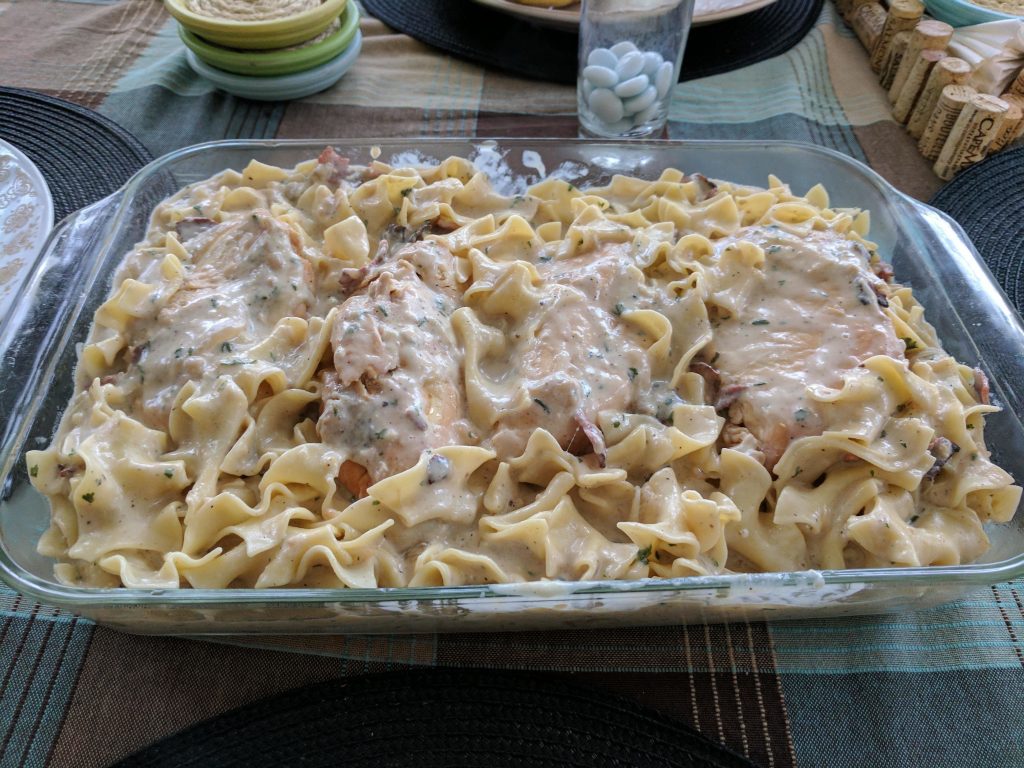 Original source – http://www.kraftcanada.com