This recipe reminded me somewhat of a previous recipe that I posted here (the Mexajita Chicken – https://plzh4x.me/2017/03/19/mexajita-chicken/).  It had the same general benefits too in that it was super easy to make (very minimal prep time) – and this time I got to try out my proposed methodology of "stabbing" the chicken with a skewer periodically in attempt to "aerate" the chicken and allow for more of the juices to get inside.  To be honest, I'm not sure if it made any difference.
I think it turned out pretty good.  I'd probably make this for guests if I was in a time crunch, as it seemed to turn out better (both taste-wise and visually) when comparing to the Mexajita Chicken.  I just served it over rice.
[INGREDIENTS]
3 boneless, skinless chicken breasts
1 can (12 to 15 ounces) whole kernel corn, drained
1 can (15 ounces) black beans, drained
1 can (4 ounces) mild chopped green chile pepper
1 cup chunky salsa
1 tablespoon taco seasoning
1/4 teaspoon ground black pepper
[DIRECTIONS]
(1) Put the chicken breasts (raw) in the slow cooker.
(2) Add the corn, beans, chile peppers, salsa, taco seasoning, and pepper. Stir to blend ingredients.
(3) Cover and cook on LOW for 5 1/2 to 6 1/2 hours, or until chicken is tender.
(3.5) (Optional, while cooking) Periodically puncture small holes in the chicken with a skewer as it's cooking; maybe once every few hours when you're stirring it.
[RESULT]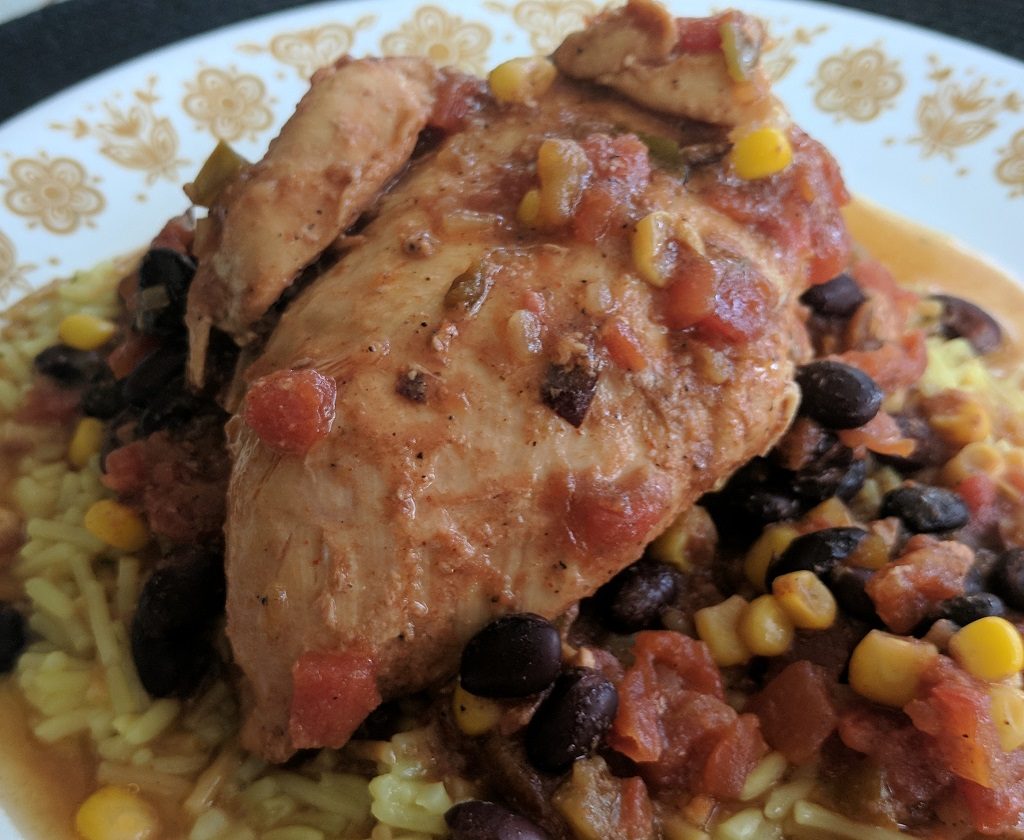 Original Source – The Spruce