This was my first attempt at using my pressure cooker for an actual meal and not just making hard-boiled eggs.  To be honest, I wasn't too impressed with this recipe, as it seemed to me that the chicken turned out to be very dry compared to the many slow cooker recipes I've tried with chicken.  That all being said, I think I may try to formulate some sort of "ultimate" combination to combine the mix of spices found in this recipe with some others.  I found the spices and sauce for this recipe to be very good – it was just the chicken that turned out bad in my opinion.
[INGREDIENTS]
2 teaspoons garlic powder
1 teaspoon onion powder
1 teaspoon chili powder
1 teaspoon paprika
1 teaspoon salt
1/2 teaspoon pepper
2 lbs. chicken tenders
2 tablespoons butter
2 tablespoons oil
1/2 cup chicken broth
2 tablespoons cornstarch
2 tablespoons water
2 cups heavy cream
2 tablespoons finely chopped fresh parsley
10-12 oz. spaghetti, prepared according to package directions
[DIRECTIONS]
(1) In a mixing bowl, combine garlic powder, onion powder, chili powder, paprika, salt, and pepper. Add chicken and toss with your hands to coat the chicken with spices.
(2) Select Sauté/Browning and preheat the pressure cooking pot. When hot, add the butter and oil and stir until butter is melted. Briefly sauté the chicken a few pieces at a time on both sides and remove to a plate.
(3) When all the chicken has been sautéed. Add the chicken broth and chicken to the pressure cooking pot. Lock the lid in place. Select high pressure and 3 minute cook time. When time beeps, do a quick pressure release to release the pressure.
(4) In a small bowl, dissolve cornstarch in water. Push chicken to one side of the pot and add cornstarch mixture and stir to combine. Select Sauté and constantly stir until sauce thickens. Turn off pressure cooker and gradually stir in heavy cream.
(5) Serve chicken and sauce over spaghetti sprinkled with parsley.
[RESULT]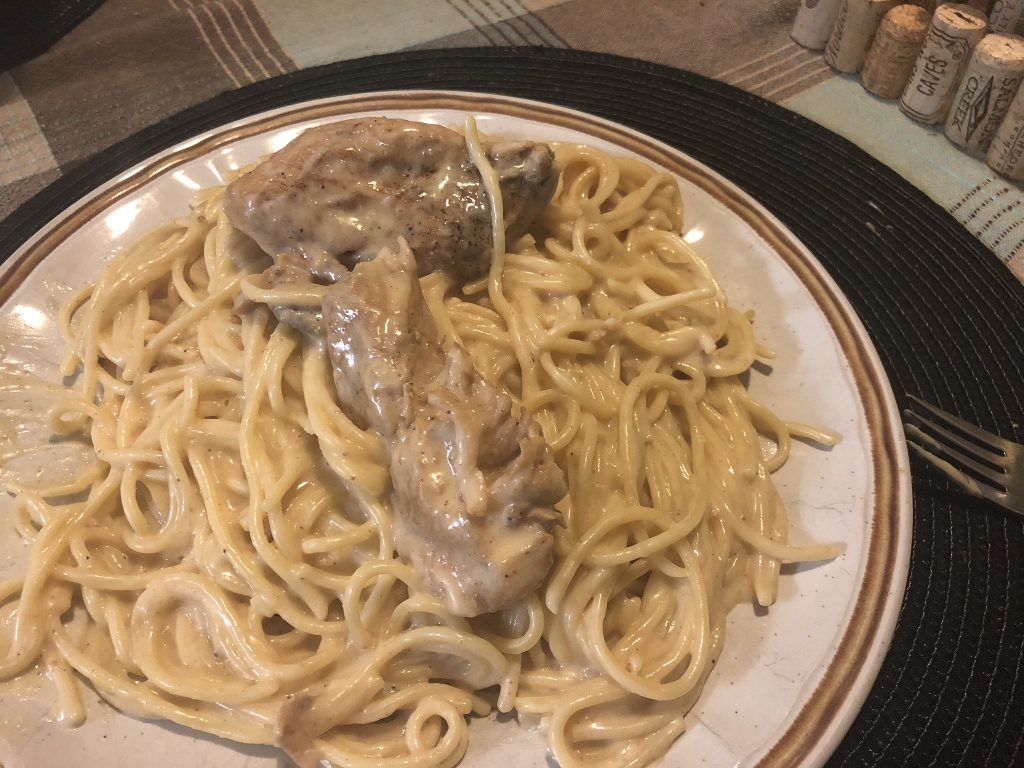 Original Source – Pressure Cooking Today