Overall, this was a surprisingly good recipe.  I originally decided to make it just for laughs; but it's looks were actually quite deceiving!  Visually, you'd think it's just a crock pot full of tater tots – but it's actually got a somewhat chili-like texture / taste with the hefty layer of ground turkey mixture.  It reminded me some of one of the older Turkey Chili recipes (https://plzh4x.me/2017/01/16/turkey-chili/) that I posted.
At most, I would serve this with tortilla chips, but it should do just fine on it's own as a standalone meal.
[INGREDIENTS]
1 tablespoon olive oil
1 1/2 pounds ground turkey
1 onion, diced
1 (15-ounce) can black beans, drained and rinsed
1 cup corn kernels, frozen, canned or roasted
1 cup salsa, homemade or store-bought
1 (4.5-ounce) can chopped green chiles, drained
1 tablespoon taco seasoning mix
1 (10-ounce) can mild enchilada sauce
1 (16-ounce) package frozen tater tots
3/4 cup shredded sharp cheddar cheese
2 tablespoons chopped fresh cilantro leaves
[DIRECTIONS]
(1) Heat olive oil in a large skillet over medium high heat. Add ground turkey and onion and cook until turkey has browned, about 3-5 minutes, making sure to crumble the turkey as it cooks; drain excess fat and remove from heat.
(2) Stir in black beans, corn, salsa, green chiles, taco seasoning and enchilada sauce.
(3) Lightly coat the inside of a 4-qt slow cooker with nonstick spray.
(4) Spread half of the tater tots onto the bottom of the slow cooker; top with ground turkey mixture and remaining tater tots. Cover and cook on low heat for 3-4 hours. Add cheese during the last 30 minutes of cooking time.
(5) Serve immediately, garnished with cilantro, if desired.
[RESULT]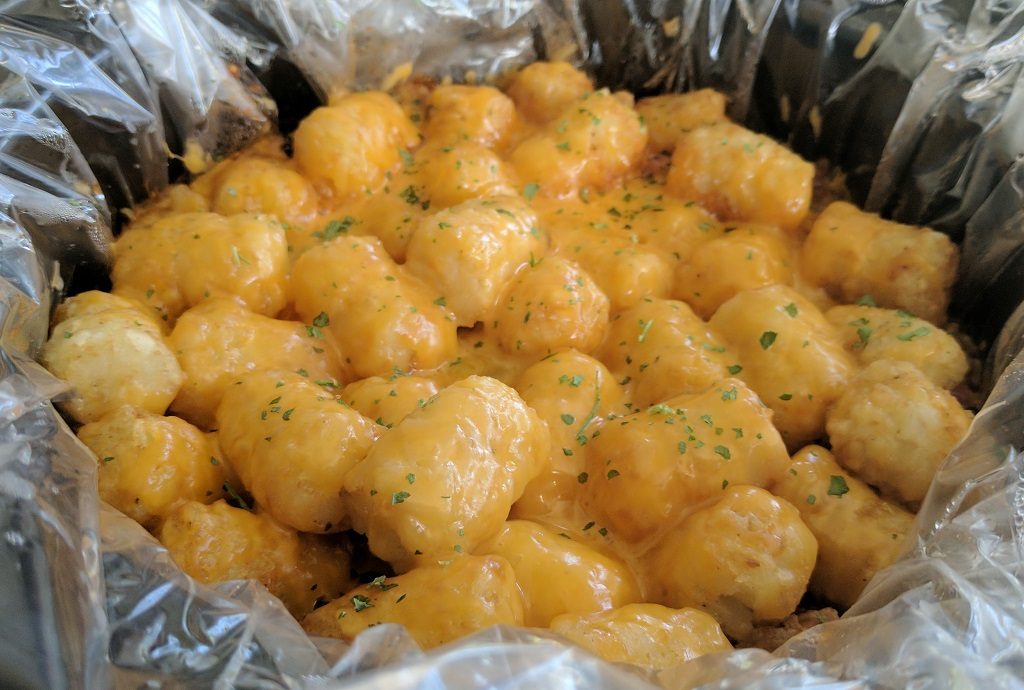 Original source – Damn Delicious