Note that this recipe appears to be very similar in nature to the chicken stroganoff recipe I posted previously.  If I had to choose, however, between the stroganoff and this tetrazzini, I would go with this for a few reasons:
The chicken seemed to turn out better, with more flavor and moisture than was present in the stroganoff
While this dish does require more prep time (and more dishes), I'd say that the overall flavor of the sauce (presumably due to the addition of the garlic & onions) was more impressive.
[INGREDIENTS]
6 skinless, boneless chicken breast halves
2 tablespoons melted butter
1 (.7 ounce) package dry Italian-style salad dressing mix
2 tablespoons butter
1 small onion, sliced and separated into half-rings
3 cloves garlic, minced
1 (10.5 or 10.75 ounce) can condensed cream of chicken soup
1/2 cup chicken broth
1 (8 ounce) package cream cheese, softened
1 bag (12 ounce) of dumpling noodles
[DIRECTIONS]
(1) Place chicken in the slow cooker crock. Top with 2 tablespoons melted butter; sprinkle with Italian dressing mix.
(2) Cover, and cook on High for 3 hours.
(3) Heat the remaining 2 tablespoons of butter in a large skillet over medium or medium-high heat. Stir in onion and garlic; cook and stir until onion is soft, about 5 minutes. Mix in the cream of chicken soup, chicken broth, and cream cheese. Pour mixture over the cooked chicken in the slow cooker.
(4) Cover, and continue to cook on Low until chicken in fork tender and the sauce has thickened, about 1 additional hour.
(5) While the sauce is thickening, boil some water and add the dumpling noodles to the water.  Strain the noodles once they're done boiling.
(6) Mix everything together in a large mixing bowl and serve.  While mixing, try to make a point to break up the chicken some into smaller chunks.
[RESULT]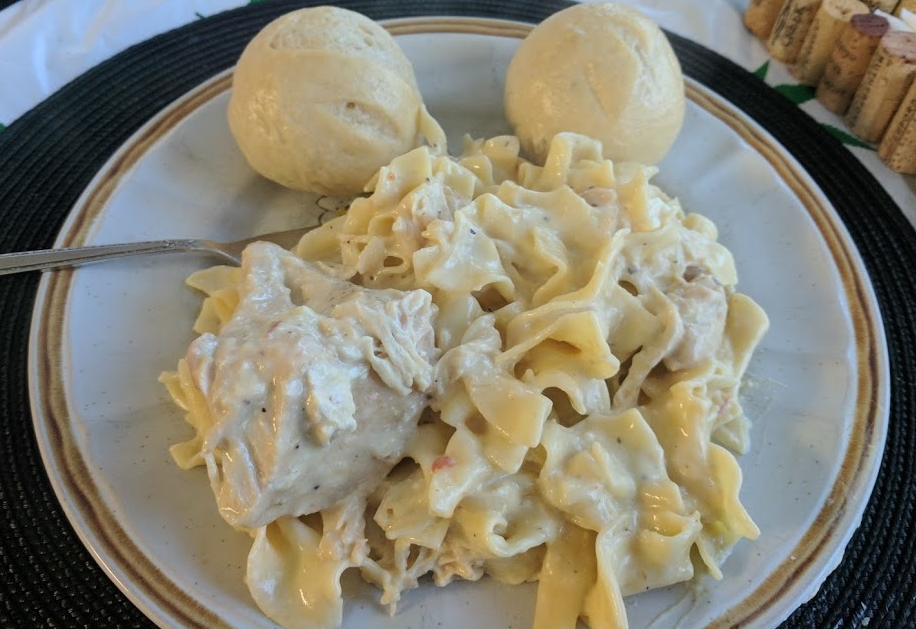 Original source – https://allrecipes.com/