This recipe didn't seem quite as well received as others that I've made with the family, but it was good nonetheless.  I personally liked the taste/texture, and I don't think anyone else really had an issue with the taste.  The primary 'complaint' I heard was just the smell – when they'd bring the meat up to their mouth, I guess it had a bad odor.  I didn't really notice it.
But y'know – who would've thunk it?  A pig's butt smells bad…
Anyways, I'd personally recommend serving this (at a minimum) on rolls with a side of cole slaw – with the obvious option of just putting the cole slaw on the sandwiches themselves.  Then maybe on the side also offer the options of your favorite BBQ sauce and perhaps some cheese for those weirdos who like that sort of thing.
[INGREDIENTS]
1 (6 pound) pork butt roast – I actually used a pork 'shoulder butt' roast (just watch out for the bones!)
1 1/2 tablespoons Hawaiian sea salt
1 tablespoon liquid smoke flavoring
[DIRECTIONS]
(1) Pierce pork all over with a carving fork. Rub salt then liquid smoke over meat. Place roast in a slow cooker.
(2) Cover, and cook on Low for 16 to 20 hours, turning once during cooking time.
(3) Remove meat from slow cooker, and shred, adding drippings as needed to moisten.
[RESULT]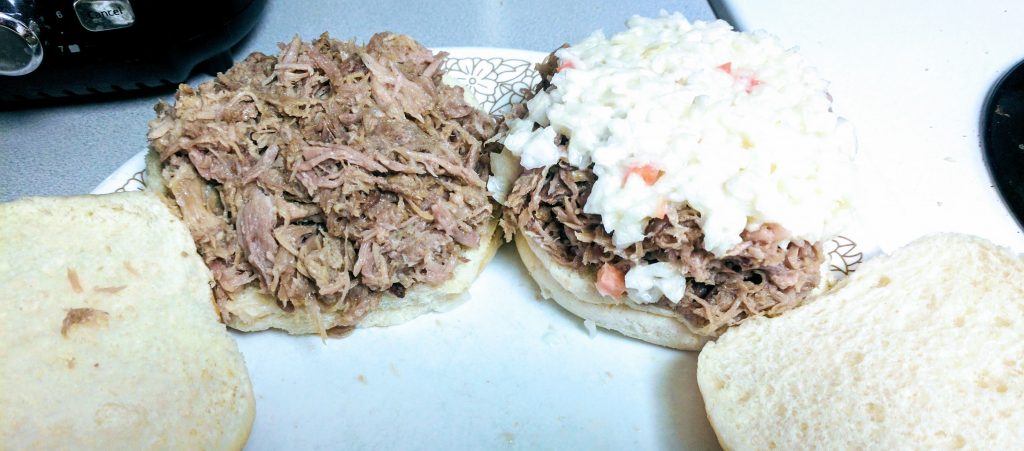 Forgot to take a picture of the original… I ended up taking one of the leftovers.

Original source – https://allrecipes.com/