If you're looking for an 'easy' recipe – this is not it.  This recipe was spawned from an even more complex recipe that I simplified – but it still ended up being difficult.  Due to the mozzarella perhaps, the meatballs (as you'll see in the picture below) did not hold their shape quite as well as I would've hoped.  Also, it seems to me that at points during the cooking that I needed a second person to assist… so keep that in mind as well!
Overall though, the meatballs tasted great!  I'd definitely make them again, just this time perhaps with a bigger chunk of time (maybe about an hour) set aside for preparation.
[INGREDIENTS – Sauce]
2 tablespoons extra virgin olive oil
1 large onion, chopped
6 garlic cloves, minced
2 1/2 (24 ounce) cans of Spaghetti Sauce
1 tablespoon dried basil
1 teaspoon dried oregano
Salt and black pepper to taste
[INGREDIENTS – Meatballs]
2 pounds lean ground turkey
1/2 cup quick cooking oats
1 teaspoon dried basil
1/4 teaspoon black pepper
2 cloves garlic, minced
2 eggs
8 ounces small fresh mozzarella balls
3 tablespoons extra-virgin olive oil
[DIRECTIONS]
(1) In a large skillet heat extra-virgin olive oil on medium heat. Add onion and garlic. Cook until tender. Spray 5 quart or larger slow cooker. Add onion and garlic and remaining sauce ingredients. Stir to combine. Cook the sauce on low for 5-6 hours.
(2) Preheat the oven to 450F.
(3) In a large bowl mix turkey, oats, basil, black pepper, garlic cloves and eggs. Shape into 2-inch balls (should get 14 to 16 meatballs). Press 1 small mozzarella ball into center of each meatball, sealed inside.
(4) In a large skillet, heat oil over medium-high heat. Add meatballs; cook just until browned on all side.  Once the meatballs are browned, place them on a baking sheet.
(5) Bake the meatballs for about 15 minutes at 450F.
(6) Add the meatballs to the sauce and let it cook for another hour or so on low.
[RESULTS]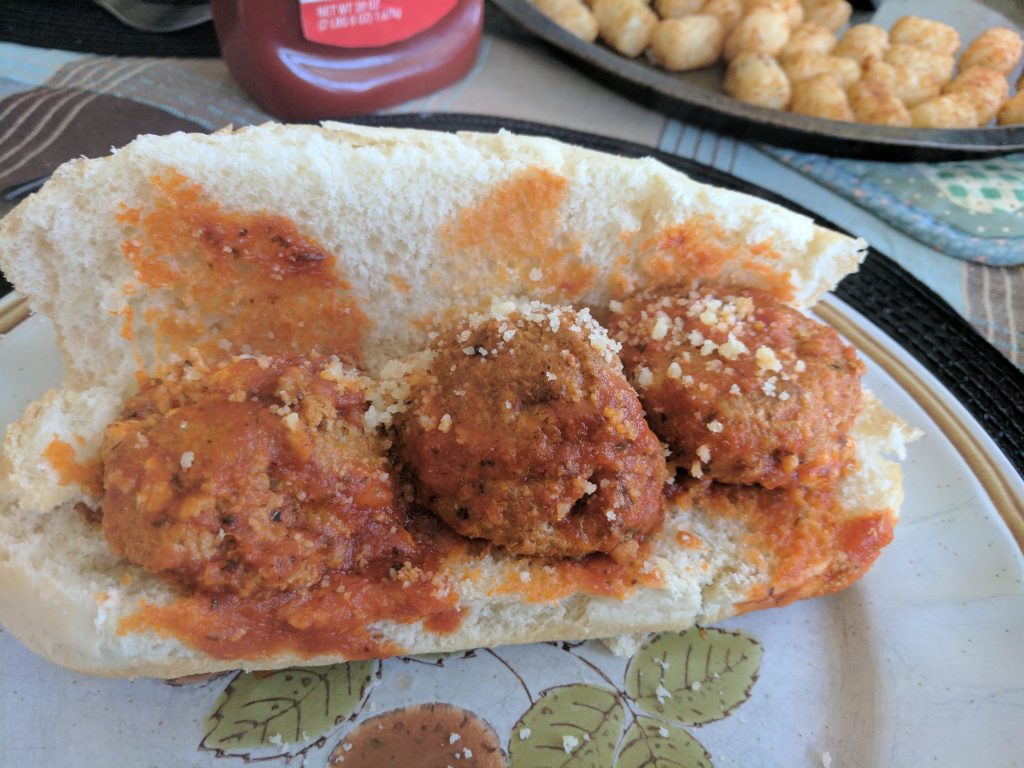 I'm the worst photographer I know…