This was one of the more 'high risk' recipes that I made, but I'd say that it turned out pretty well.  Overall it tasted pretty good – although I suppose I was somewhat surprised at the amount of lettuce in the soup.  I think if I made this again I might cut back some on the lettuce, and perhaps increase the amount of tortellini to compensate.
I'd say that this recipe would be best on a cold winter night.
[INGREDIENTS]
1 tbsp. extra-virgin olive oil
1 lb. sweet Italian sausage, casings removed
1/2 c. dry white wine
1 onion, chopped
2 celery ribs, sliced
3 garlic cloves, chopped
6 c. chicken stock
2 tsp. italian seasoning
1 tsp. fennel seeds
1 bay leaf
Freshly ground black pepper
2 small heads escarole, chopped (8 c.)
1 9-oz. package refrigerated three-cheese tortellini
1 bag of croûtons (garlic / cheddar works fine)
[DIRECTIONS]
(1) Heat oil in a large skillet over medium-high heat. Add sausage and cook, breaking it up into large chunks with a spoon, until browned, 6 to 8 minutes.
(2) Remove sausage with a slotted spoon to a 6-quart slow cooker; reserve skillet.
(3) Add wine to reserved skillet and cook, scraping up brown bits, until thickened, 30 seconds; add to slow cooker.
(4) Add onion, celery, garlic, stock, Italian seasoning, fennel seeds, bay leaf, and 1/2 teaspoon pepper to slow cooker and stir to combine. Cover and cook until vegetables are tender, on low for 5 to 6 hours.
(5) Stir in escarole and tortellini; cover and cook until escarole is wilted and tortellini is tender, 14 to 16 minutes on low.
(6) Season with salt and pepper. Serve topped with Pesto Croutons.
[RESULT]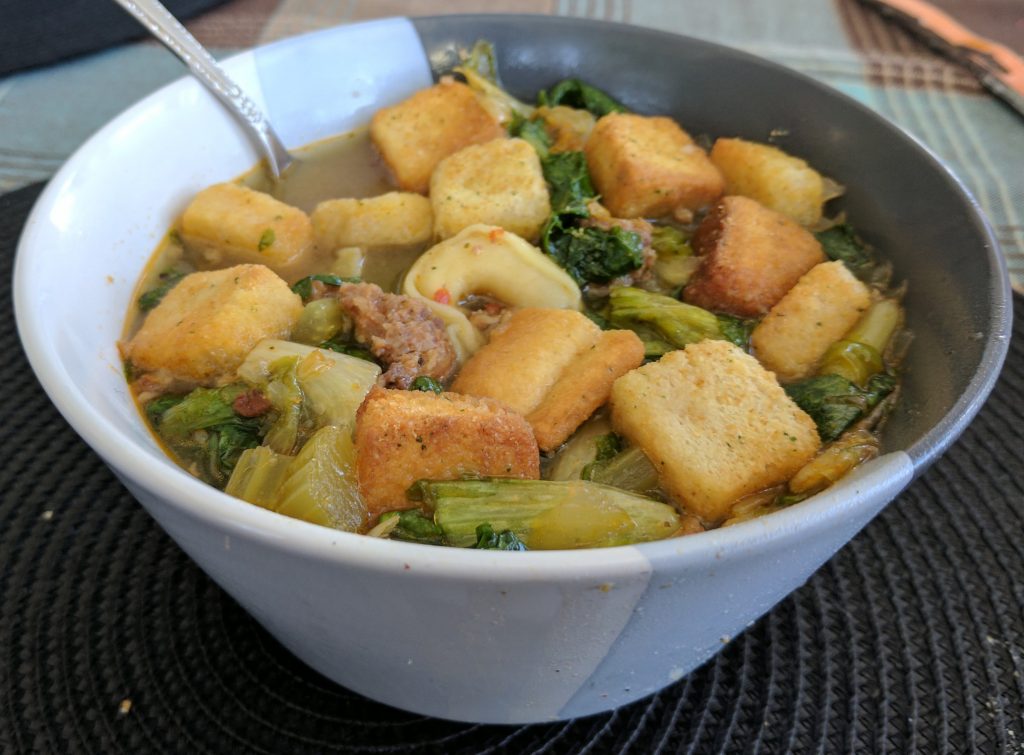 Original source – http://www.countryliving.com