I liked this recipe a lot – it was both super easy and it also turned out well.  I think I'm going to modify this recipe in the future based on another chicken dumplings recipe I tried in the past.
[INGREDIENTS]
2 1/2 lb boneless skinless chicken thighs, cut into 1-inch pieces
1 cup heavy whipping cream
1/4 cup all-purpose flour
1 package (0.87 oz) chicken gravy mix
1 tablespoon poultry seasoning
1/2 teaspoon salt
1 bag (12 oz) frozen mixed vegetables
1 can (16.3 oz) refrigerated buttermilk biscuits
[DIRECTIONS]
(1) Spray 5-quart oval slow cooker with cooking spray. Place chicken in slow cooker.
(2) In small bowl, mix whipping cream, flour, gravy mix, poultry seasoning and salt; pour over chicken. Cover; cook on Low heat setting 3 to 4 hours or until chicken is tender.
(3) Heat oven to 350°F. Stir frozen mixed vegetables into slow cooker. Remove slow cooker insert.
(4) Separate dough into 8 biscuits. Top mixture in slow cooker with biscuits. Bake uncovered 35 to 40 minutes or until biscuits are deep golden brown on top and cooked through.
[RESULT]
Fresh out of the oven: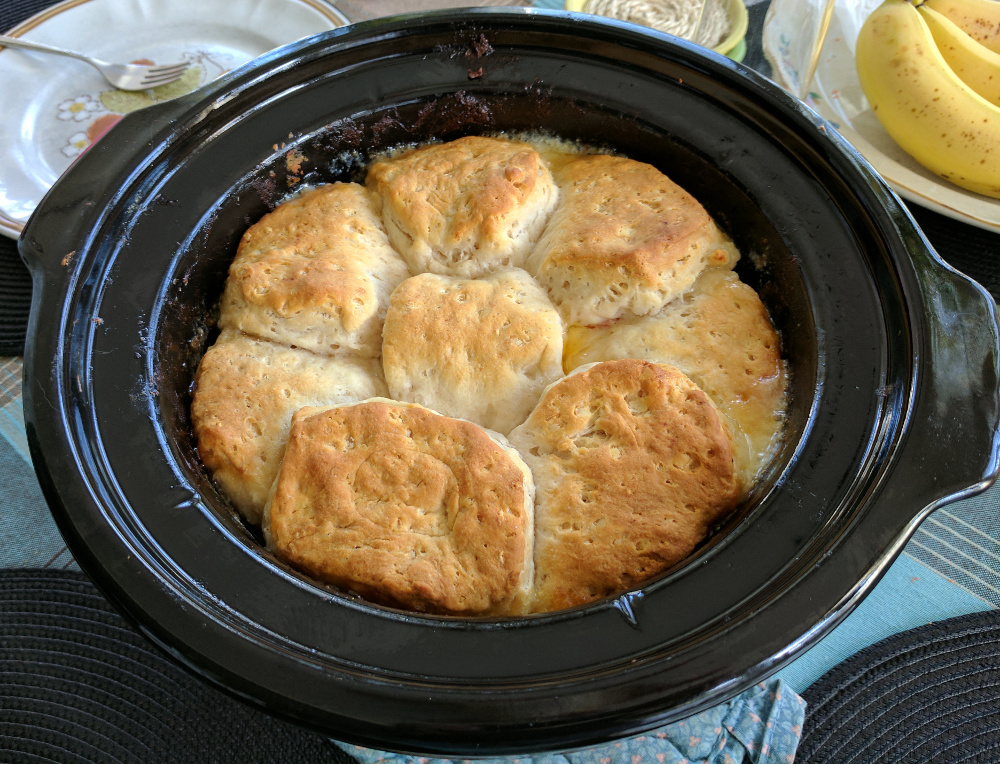 Original source – https://www.pillsbury.com