This was a very good recipe, and I'd definitely recommend it.  I actually found this recipe when reading a conversation thread regarding meals that people use to show off to dinner guests.  I just served the chicken over plain white rice, but it seems like it could be served with other things as well – like broccoli or lo mein.  It's not quite as easy as some of the other recipes I've posted, just from the aspect that the preparation time is somewhat longer (~20 minutes).  There weren't any particularly difficult steps, however – I'd say that it's pretty hard to screw this recipe up.
[INGREDIENTS]
3 large boneless, skinless chicken breasts (2 1/2 to 3 lbs total)
1/2 cup honey
1/2 cup low sodium soy sauce
1/4 cup blackberry jam
1/4 cup hoisin sauce
2 Tablespoons olive oil
3 cloves garlic, minced
1/2 cup diced onion
1/4 teaspoon crushed red pepper flakes (optional)
1 Tablespoon cornstarch
Sliced scallions, for garnish
Sesame seeds, for garnish
[DIRECTIONS]
(1) Arrange the chicken breasts in the slow cooker so that they are not overlapping.
(2) In a medium bowl, whisk together the honey, soy sauce, blackberry jam, hoisin, olive oil, garlic, onion and crushed red pepper flakes.
(3) Pour the sauce over the chicken. Cover the slow cooker and cook the chicken on LOW for 4 to 5 hours until the chicken is fully cooked.
(4) Using tongs, remove the chicken from the slow cooker (reserving the liquids) and place it on a cutting board
(5) Use two forks to shred the chicken into smaller pieces. Place the shredded chicken in a large bowl.
(6) In a small bowl, whisk together the cornstarch with 3 tablespoons of cold water to make a slurry.
(7) Transfer the liquids from the slow cooker into a small saucepan set over medium-high heat and whisk in the slurry.
(8) Bring the sauce to a boil and cook it until it reduces and has thickened slightly, about 3 minutes.
(9) Pour the sauce over the chicken, tossing to combine. Serve the chicken topped with sliced scallions and sesame seeds.
[RESULT]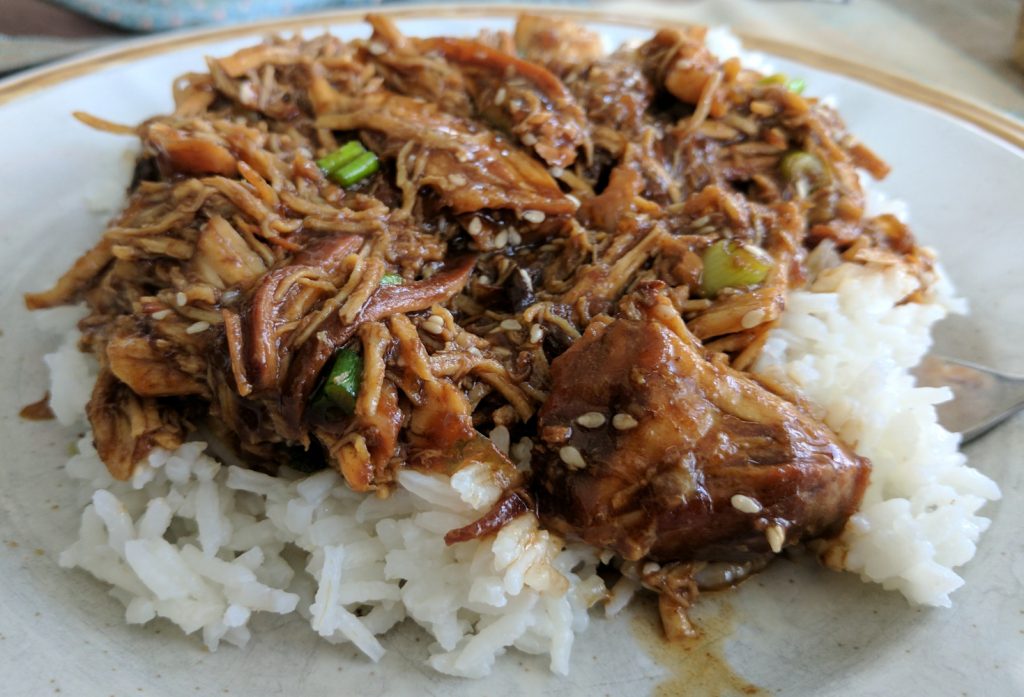 Original source – Just a Taste