This recipe is a bit of a deviation from my "norm", as it's not a slow cooker recipe – but rather a grilling recipe.  From my recollection, this is probably one of the best grilled chicken recipes that I've consumed.  I'd definitely recommend this as a summer-time recipe.
Went well served over rice and alongside corn on the cob.
[INGREDIENTS]
2 tablespoons Worcestershire sauce
2 tablespoons low sodium soy sauce
2 tablespoons teriyaki sauce
1 teaspoon liquid smoke flavoring
1 tablespoon molasses
1 tablespoon sesame seeds
1 tablespoon brown sugar
1 teaspoon paprika
1/2 teaspoon garlic salt
1/4 teaspoon garlic pepper
2 teaspoons minced garlic
1/4 cup canola oil
6 skinless, boneless chicken breasts
[DIRECTIONS]
(1) Mix together Worcestershire sauce, soy sauce, teriyaki sauce, liquid smoke, and molasses in a resealable plastic bag until the molasses has dissolved. Add sesame seeds, brown sugar, paprika, garlic salt, garlic pepper, minced garlic, and canola oil; mix well. Coat chicken breasts with the marinade, seal, and marinate for at least 4 hours in the refrigerator, redistributing the chicken in the marinade occasionally.
(2) Preheat your oven to 325 degrees
(3) Place the marinated chicken in a glass baking dish and cover with aluminum. Cook in the oven for 30-45 minutes, until the chicken is warm throughout.
(4) Light the outdoor grill while the marinated chicken is cooking in the oven.
(5) Remove chicken from marinade in glass baking dish and shake off excess. Grill on preheated grill until the chicken has reached an internal temperature of 165 degrees F (75 degrees C), and is firm and opaque, about 12 minutes per side. Discard any remaining marinade.
[RESULT]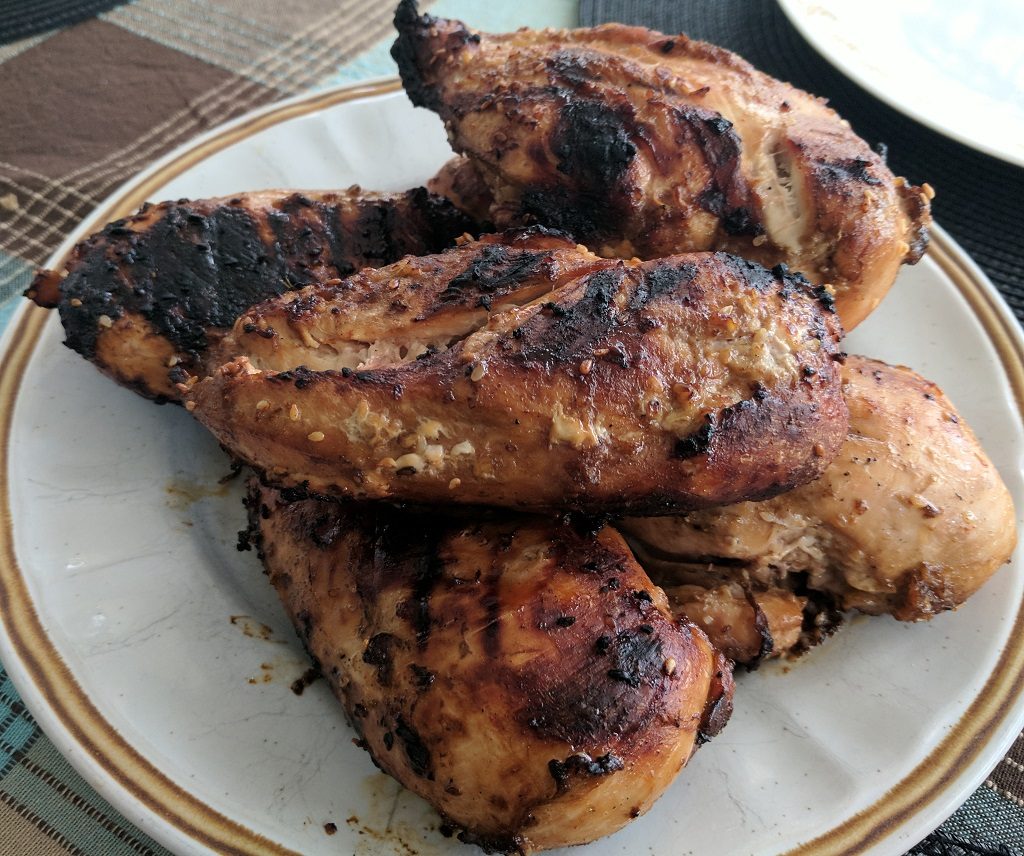 Original Source – AllRecipes