The key to this dish is saying the name "Mustard Chicken" in the most disappointed and boring tone you possibly can when you explain it to people.  Anyways – this dish was pretty good, although it wasn't nearly as good as the "Delectable" chicken recipe that I made before.  This recipe seems to be good though for if you're in a pinch, because it's super easy (there's only like 5 ingredients in total!).  Once again – this dish is deviating from my "normal" slow cooking recipes, primarily due to the fact that it's the Summer, and slow cooking + Summer don't seem to mesh well.
[INGREDIENTS]
1/3 cup Dijon mustard
1/4 cup honey
2 tablespoons mayonnaise
1 teaspoon steak sauce
4 skinless, boneless chicken breasts
[DIRECTIONS]
(1) In a shallow bowl, mix the mustard, honey, mayonnaise, and steak sauce. Set aside a small amount of the honey mustard sauce for later, and dip the chicken into the remaining sauce to coat. Let the chicken soak for 30 minutes.
(2) Preheat your oven to 325 degrees
(3) Place the chicken (along with the honey mustard sauce) in a glass baking dish and cover with aluminum. Cook in the oven for about 30 minutes, until the chicken is warm throughout.
(4) Light the outdoor grill while the chicken is cooking in the oven.
(5) Remove chicken from the honey mustard sauce in glass baking dish and shake off excess. Grill on preheated grill until the chicken has reached an internal temperature of 165 degrees F (75 degrees C), and is firm and opaque, about 12 minutes per side. While the chicken is grilling, continue to coat the chicken with the remaining honey mustard sauce.
[RESULT]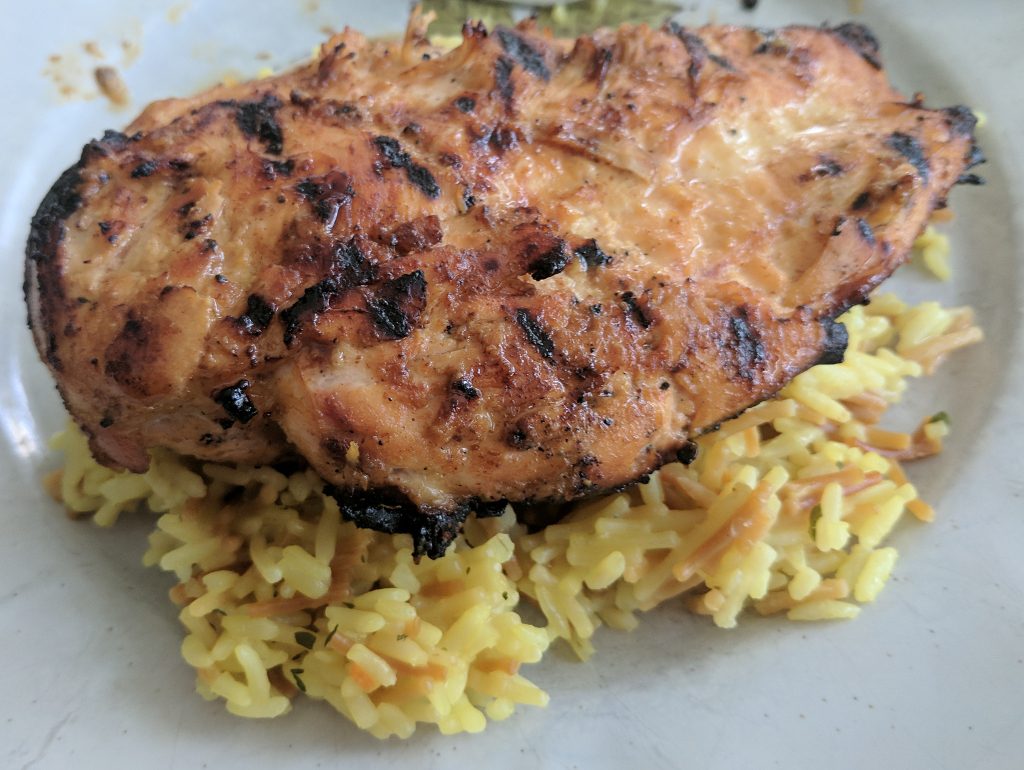 Original Source – AllRecipes